Please click on the links below to read the articles

 September 24 2005
 Labour's lesson in Aussie style
by Mark Jones

Tuesday 6 September 2005
My Kind of Town – Favourite places for lunch

Saturday 25 June 2005
Body & Soul
From hiking to biking: more healthy family holidays
by Hilly Janes

Saturday, 28 May, 2005
50 Bank Holiday Seaside Gems
Blue Flag bonus

Sunday, 24 April 2005
Fun for all – family friendly hotels with restaurants
by Sue Webster

Tuesday, 16 September 2003
The joy of Sussex.
David Landsel investigates one of London's
favourite new weekend getaways
part one click here
part two click here

Sunday, June 15 2003
The best seaside holidays in Britain.
Camber Sands has been a secret haunt of fashionistas for years.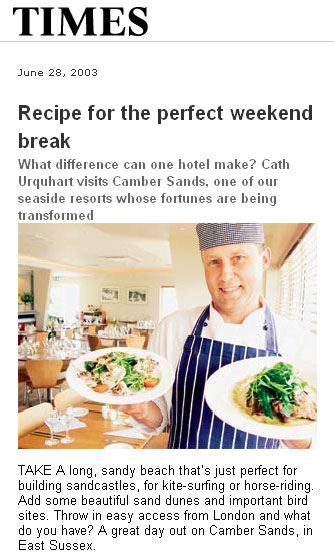 June 2003
Camber Sands – Recipe for the perfect weekend break

Saturday 26 November 2005
Cath Urquhart – Hastings Reborn
the opening of one stylish, good-value hotel can transform a day-trip destination into a weekend break option

July 2005
shore thing
Summertime and the weather is fine – perfect
for checking out the UK's coolest coastal hotels

April 2005
Weekend breaks
Where to stay
 Where to eat and drink

Sunday 20 March, 2005
Still Time to have the beach all to yourself
Susannah Jowitt matches
the four best off-season beaches with four boutique hotels that provide modern comforts whatever the weather.

Saturday September 11, 2004
Rest assured
New hotels are springing up all the time, but it's getting harder to find quality places in the budget price range
By Desmond Balmer

Saturday July 24 2004
Five Best: British Seaside Hotel
Enjoy fabulous coastlines without leaving
the country

June 16-23 2004
Seaside Special
The coasts with the most

January 2004
If you dream of the beach:
…get windswept on the dunes of camber sands

Wednesday, April 28 2004Survival of the PrettiestIt took a disaster to spark the regeneration of
the South-East's finest stretch of coast. 
Peter Hardy explores Camber Sands.

Saturday, November 8 2003
Sea Change 
A new breed of beachside hotel is making
the British seaside a year-round destination.
Stuart Millar enjoys an Autumn break on
Camber Sands

Saturday October 11 2003
Delicious dining, then down to the dunes
by Paddy Burt

the place camber sands
new lydd road camber
rye tn31 7rb
tel +44 (0) 1797 22 50 57
fax +44 (0) 1797 22 70 03
waw leisure | group hotels | legal | privacy

designed by